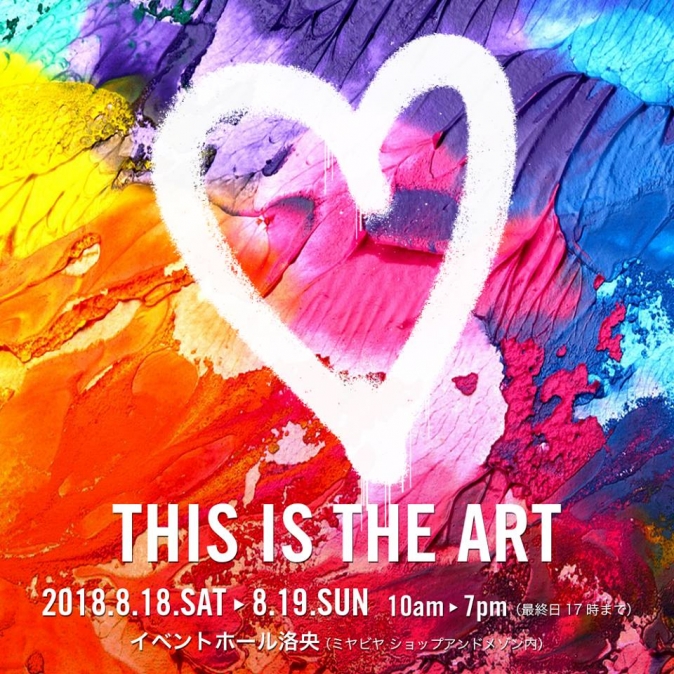 BLOG
2018.8.8
THIS IS THE ART
http://thisistheart.jp

【 Art & Fashion Event 】
Exhibition of individuality artist groups working in Tokyo, Fukuoka, Kyoto
This Art & Fashion event concept is Made in Japan. Remake art apparel, original leather jewelry, unique item using crocodile leather, colorful custom pop dog art, traditional wood carving art, fashion pop art, artistic Japanese style pottery, exciting and "kawaii" art workshop where children can participate, original leather goods made in Japan. "The one and only item" full of originality is here. Please come and see the art and fashion of Made in Japan.
Saturday, August 18, 2018
10am ▶︎ 7pm
Sunday, August 19
10am ▶︎ 5pm
EVENT HALL RAKUO - Miyaviya Shop and Maison -
645, Ishifudonocho, Teramachinisiiru, Matsubaradoori, Shimogyo-ku,
Kyoto-shi, Kyoto-fu 600-8047 Japan
CALL.075.371.6601
Google Map ▶︎
https://goo.gl/maps/M36LT4Nbius

ーーーーーーーーーーーーーーーーーーーーーーーーー
【 アートとファッションのイベント 】
東京・福岡・京都で活躍する個性派集団の作品販売展
リメイクしたアートアパレルや1点もののオリジナルジュエリー、クロコダイルレザーを用いた個性的なアイテム、あなたの愛犬をポップなカラーで描くドッグアート、伝統の木彫りと現代アートを融合させたアート、ユニークなモチーフのファッションポップアート、代々受け継がれた陶芸家が創るアートを感じつつ日常に使える陶器、ワクワクを連想させるカワイイアートと子どもたちも参加できるワークショップ。オリジナルレザーグッズを提案するMIYABIYAに 個性豊かなアーティストたちが集結。大量生産には無い、オリジナリティ溢れる「ひとつだけのアイテム」がここにあります。個性あるアート&ファッションをぜひ楽しんでください。
2018.8.18.SAT ▶︎ 8.19.SUN.
10am ▶︎ 7pm(最終日17時まで)
イベントホール洛央|EVENT HALL RAKUO
- Miyaviya Shop and Maison 内 -
〒600-8047京都市下京区松原通寺町西入石不動之町695
TEL.075.371.6601
Google Map ▶︎
https://goo.gl/maps/M36LT4Nbius

ーーーーーーーーーーーーーーーーーーーーーーーーー
【 for more info 】
THIS IS THE ART
www.thisistheart.jp

ーーーーーーーーーーーーーーーーーーーーーーーーー
【 Artist & Brands 】
Katayama Kenzi | Art apparel |
nine SIXty | Jewelry |
Second Effort | Leather Items |
KG | Crocodile Leather Items |
Naoto Suzuki | Ceramic Art |
OSZAL | Wood Carving |
MOMOCO | Pop Art |
Gaku Igarashi | Pop Art |
Eiji Tamura Dog Art Tokyo | Pop Art |
www.eijitamura.com